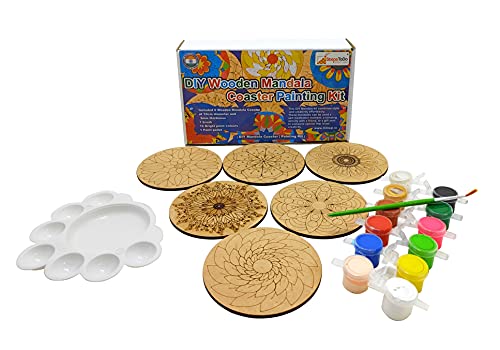 DIY Mandalas Wooden Coaster Painting 'Kit-A' | DIY Art & Craft Kit (T298)
Rs.315.00
This DIY Mandala kit combines style and creativity effortlessly.
These mandalas can be used a self-meditation moment, a bonding activity with a friend, or a gift sent to someone special that loves creativity.
These Mandalas can painted or filled in with colored pencils then sprayed with a sealer or lacquer to be used as custom coasters.
It will help to develop children's learning and drawing skills while having endless fun.
It is suitable for all age group from kids to adults.- Ideal for those who wants to gift their love once unique handmade article.
Kit Contains : 6 Wooden Mandala Coaster of 10cm diameter and 3mm thickness, 1 brush, 12 Bright paint colours and 1 Paint pallet.
Various Shapes: Our Mandala Coaster include 6 different templates such Butterfly Warrior, Leaf Lover, Bloom, etc.
The Mandala Coaster are made of premium wood (Durable Wooden Material) not cheap plastic, like others. They are safe & Eco friendly.
If you do not 'seal' the color before using it as a coaster, condensation could cause the colors to bleed or rings to appear in the wood.