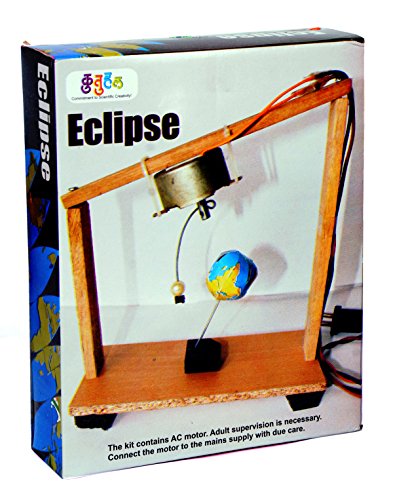 StepsToDo _ Motorized Eclipse Demonstration Kit | DIY School Project | DIY Physics Experiment | DIY Science Activity Kit (A00049)
Rs.447.00 Rs.450.00
Make a working model to demonstrate and Understand natural phenomena of Eclipse.
Kit comes with AC Motor, Earth, Sun, Moon model and set up to demonstrate how their relative positions cause eclipse.
You may refer product and instructions/manual images for more details.
This product will be shipped along manual has details of how to perform various activities using this kit, theoretical concepts covered by them.
As said by Benjamin Franklin "Tell me and I forget, teach me and I may remember, involve me and I learn.
This product provide Joyful and Meaningful Learning Experience.
Such activities instill wonder and fascination towards science among young students.
It help in igniting interest in subject and inculcate a scientific attitude.
Perfect gift to generate curiosity and interest in academics
Hands-On Physics Concept Learning. No More Rote Learning.