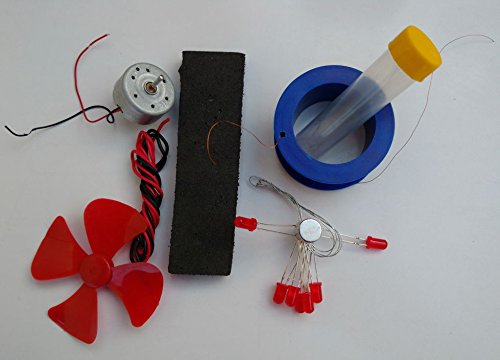 StepsToDo _ DIY Different Forms of Generator Making Kit | With Wind Mill Educational Set | Alternative Energy | Electronic Hobby Kit (A151)
Rs.365.00 Rs.400.00
Wind Mill (Blow & Glow) : Generator demonstrates working of wind mill, Shake & Glow Type of Generator. When you blow air on fan, it rotates then fan and connected dynamo. Dynamo converts kinetic energy into electrical energy. This electrical energy glows LEDs.
Shake & Glow clearly shows that movement of magnetic field around copper coil generates electricity.
Understand Concepts and Why, Part of Do It Yourself Activity as we generate electricity and glow LEDs without battery.
This fantastic school science project kit comes with printed instructions.
It definitely meets objective of playful learning and Generating interest in academics.
KIT CONTAINS :
Fan
Connecting wire
LEDs
Copper Wire
Foam Strip
Small tube
Instruction Manual