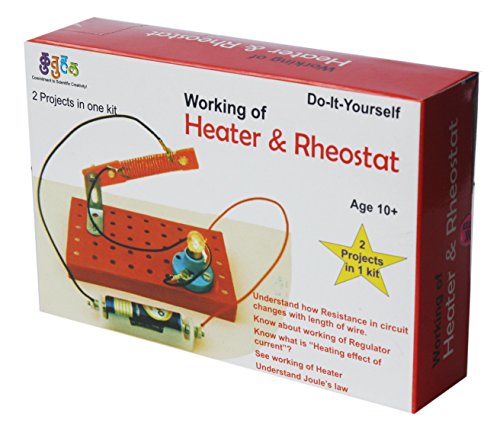 StepsToDo _ Working of Heater and Rheostat | Demonstration of Heating Effect of Electric Current & Joule's Law | DIY Science Activity (A156)
Rs.258.00 Rs.300.00
Heating effect of electricity is one of the widely used effects in the world.
Two Do t Yourself (DIY) projects 'Heater and Rheostat' in one kit.
This DIY science project kit help students to understand Heating effect of electrical current, Working of heater, Joule's Law of heating and Concept of variable resistance in circuit
It demonstrate relation between length of wire and resistance in circuit.
When electric current is passed through a conductor, it generates heat due to the resistance it offers to the current flow.
Kit will help to understand working of different electrical appliances like electrical heater, iron, hot plate, etc.
Fantastic school science project kit. It comes with printed instructions.
KIT CONTAINS :
Plastic base board
Single cell holder
Connecting wires
'L' bracket
Nuts and bolts
One Rheostat
Bulb with bulb holder
Screw driver
Kit need 2 pencil cells which are not provide in the kit