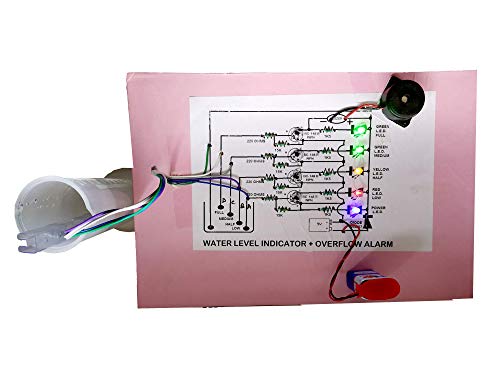 StepsToDo _ Water-Level Indicator | Overflow Alarm | Electronic & Science Project | DIY Science Activity (T159)
Rs.524.00 Rs.550.00
This product contains ready to use fully assemble circuit for water level indicator project.
Best suited for those who wish to submit a physics science projects in school/college.
Can be used as 'class room teaching aid' or 'science fair/exhibition project.
This product comes with detail printed notes which explains the theory and circuit diagram of the project.
It is a 100% complete working, ready-to-use handmade project on card board of size 31 cm x 21 cm.
Simple ready to use science project to detect the water level and will raise an alarm upon getting the water tank full or a preset level.
The circuit is very simple and it has a very low current consumption, so you can use a 9-volt battery to powering this water level indicator alarm.
Water container and 9-Volt battery is not provided in the kit.
This water level indicator alarm electronic circuit can be used even for rain alarm or short circuit alarm as well.