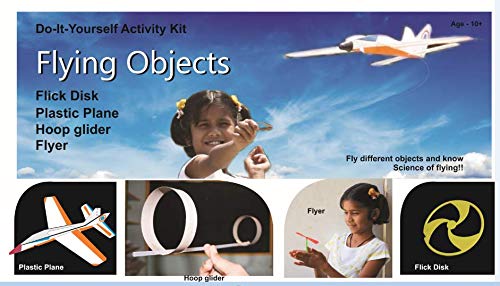 StepsToDo _ Flying Objects | DIY Activity Kit | Know Science of Flying | DIY Science Activity Kit (T163)
Rs.274.00 Rs.300.00
Flying an airplane is always a great fun and fascination for children.
This kit will be a perfect beginning. Fly different objects and know Science of flying.
Instruction for doing activities and explanation given in the kit.
KIT CONTAINS : 

Hoopster or Hoop glider
Hand propeller
Flick disk
Catapult plane
Detail theory manual

Children will fly a catapult plastic plane, a simple flyer (whirligig), make and launch hoop glider and set flick disk in motion using catapult action.
The kit not only gives children different flying objects but also explains the science of flying.
Children are always curious to know how airplane flies or difference between flying of helicopter and airplane.
The kit explains forces acting on airplane, its controls, yawing, pitching and rolling etc.
Ideal for birthday party return gifts.
Perfect beginner's kit for generating interest and curiosity in young minds.