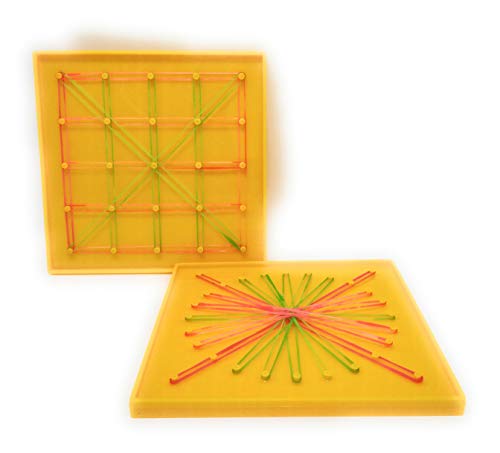 StepsToDo _ Circular and Square Geoboard (7 X 7 Inches) | With Rubber Bands and Instruction Manual | Math Learning & Creative Exploration (T202)
Rs.220.00 Rs.275.00
This geoboard is made of durable polypropylene.
Size is about 17.5cm X 17.5cm. One side has 5 X 5 pin array, the other side has a 12 pin in circular arrangement.
With these geoboard and rubber bands kids can explore, compare, make geometric shape and designs.
It will help to make them understand symmetry, congruence, perimeter, area, fractions and types of angles.
Very Versatile :- Younger students will love creating simple shapes with these geoboards. Older students will enjoy using them to explore symmetry, angles, and fractions.
Classic Pin Array :- Each geoboard offers a 5 x 5 pin array that allows children to create an incredible number of shapes with straight and diagonal lines. Try creating.
Rubber Bands :- Set includes colorful rubber bands to get the fun and learning started. The pins on the geoboards feature umbrella heads to keep the bands in place.
Instruction Manual :- Set includes detail colored instruction manual with maximum pictures and images.