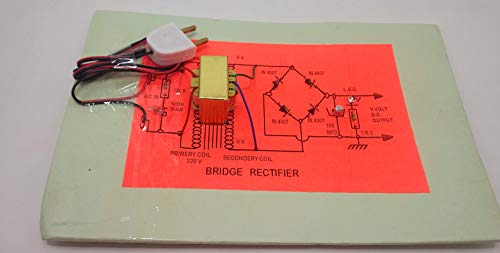 StepsToDo _ Bridge Rectifier Project | Pre-Assembled Kit on Card-Board Base | Ready for Use Project (T234)
Rs.410.00 Rs.700.00
A Bridge rectifier is an Alternating Current (AC) to Direct Current (DC) converter that rectifies mains AC input to DC output.
Bridge Rectifiers are widely used in power supplies that provide necessary DC voltage for the electronic components or devices.
A bridge rectifier is a type of full-wave rectifier that uses four or more diodes in a bridge circuit configuration to efficiently convert the Alternating Current (AC) into Direct Current (DC).
Complete 100% working model, pre-assembled and ready-to-use handmade project on card board.
Size of board : Length (31 cm) and Width (21 cm)
Best suited for those who wish to submit a physics science projects in school/college.
Can be used as 'class room teaching aid' or 'science fair/exhibition project.
Contains printed notes with brief theory and circuit diagram.
AC Bridge Rectifier Circuit Science Model Kit on Board Step Down Transformer Based Kit.