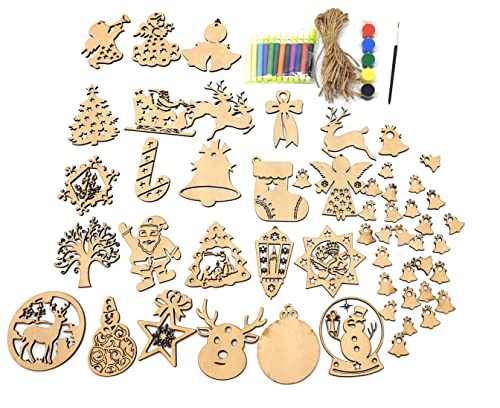 StepsToDo _ Christmas Decoration Ornament Making Craft Kit (Total 50 pcs) | Decorate & Paint Your Own Wooden Ornaments Kit | DIY Xmas Holiday Activity Kit (T309)
Rs.499.00 Rs.550.00
Kit Includes total Wooden 50 Pieces : 23 Pieces of 9cm, 27 Mini Sized Bells of 2cm, All pieces are wooden Christmas hanging ornaments.
23 style come in shapes of Santa Claus, Christmas Owl, Bear, Reindeer, Ball, Tree, Socks, Cane, Bell, Candy, Garland, Life Tree, and many more.
Kit also has 50 hanging ropes, 6 colour paint , 1 paint brush, 12 colour pens, rich enough to decorate the Christmas tree.
High-quality Material : The unfinished wood ornaments are made of premium quality natural wood. With plain sides for any write, decorate, or personal creating. Safe and environmentally friendly Christmas gift for kids.
Easy To Use : Easy to paint and write, Cute Design for Home Decor. Each Wooden Slice was drilled with a small hole that can be threaded with our ropes for you to hang easily, front side with black outline for easy painting, creating rustic and vintage crafts with kids for your Christmas party.
DIY Crafts -With colour paint and pens, Kids can create many colour combinations, plus wood ornament slices, Create special Christmas tree decorations with your kids.
Help your children stay away from electronic devices especially phones and computers. Suitable for DIY hand paintings, making Christmas tree decoration, gift tags, family calendar, classroom board, letterings, wish cards, table numbers, hangers, embellishments, coasters, backdrop decorations, photo props, etc.
Best Gift idea : The wooden Christmas decorations are perfect gift options for boys and girls above 6 years. Best gift as Christmas, festival, wedding, celebration decoration, baby shower, birthday, New Year, It will be beautiful ornaments for the Christmas tree and house, as well as wonderful Christmas gifts or housewarming gifts.