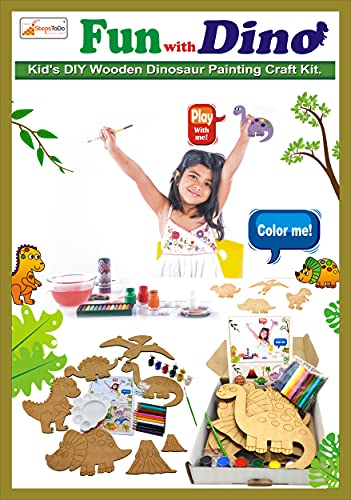 Fun with Dino | Kid's DIY Wooden Dinosaur Painting Craft Kit | Ideal for Home Schooling Activity
Rs.399.00 Rs.500.00
Fun with Dino! Kids can unleash their creativity with this DIY wooden dinosaur painting craft kit. Perfect for family or friends to paint and create together. Ideal for home schooling activities.
A fascinating DIY Craft Kit for kids.
Kit has five different Dinosaurs cuttings (Beige Colour) with beautiful detailing on it.
The kit includes

:
5 wooden dinosaurs (Thickness of each figure is 4 mm, all figures are smooth)
6 acrylic paints (apply well and dry quickly)
1 comfortable brush for painting of different sizes
7 pairs of self adhesive decorative eyes
Booklet with examples of painting dinosaurs
Product Can Be Useful in following ways
:
Training memory -manifested the perseverance and the personality of the child
Teaches how to hold hand -develops an interest in creativity
The benefits of The Kit

:
Helps to develop fine motor skills, thinking, speech, visual and motor memory, coordination.
Give your child the opportunity to have fun and make 5 new funny friends! Drawing is very useful for kids!