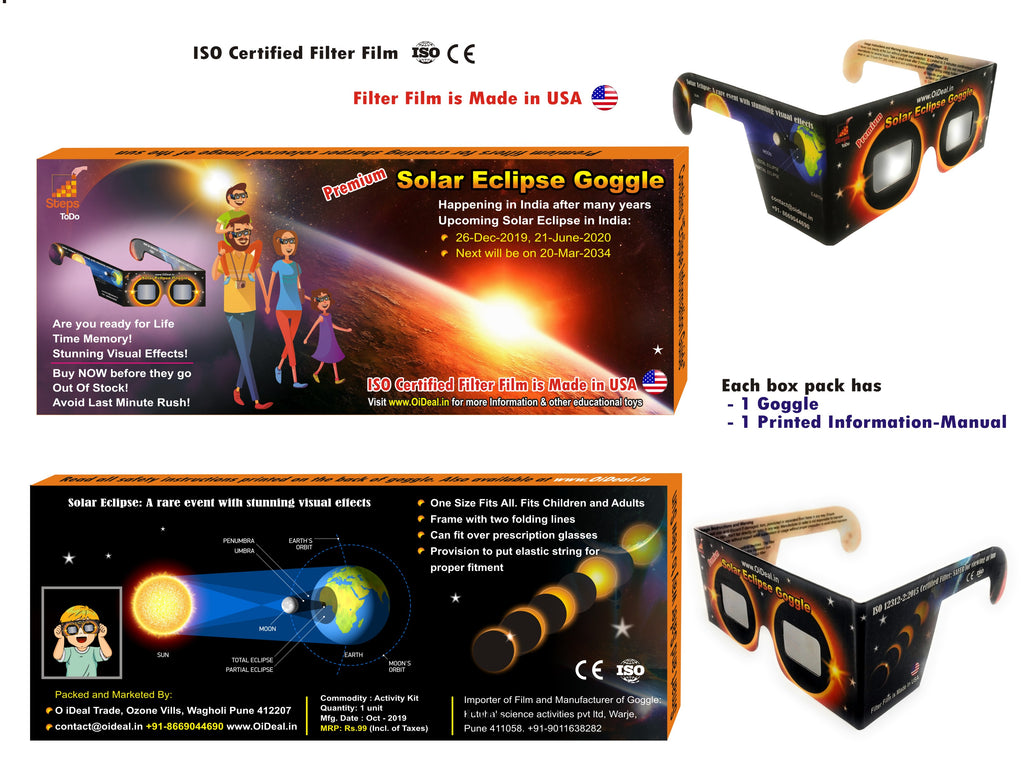 StepsToDo _ Premium Solar Eclipse Goggle| Eclipse Viewer Glasses | ISO Certified Filter Film | Fits children and adults
Rs.250.00 Rs.1,500.00
Filter film is made in USA and are ISO certified. Create sharper images for better view of sun.
Broader and adjustable frame design. Suitable for all age group.
Two folding lines for different head size. Can fit over spectacles.
Extra protection. Provision to put elastic string around head for extra grip.
Each goggle packed in box. Each box contains printed eclipse information and observation guide.
Safely view the sun during eclipse and even on anytime on regular day.
Bulk/customisation/Private brand/labeling is Supported.
Buy NOW before they go Out Of Stock.
Avoid Last-Minute Rush.
What's App Contact : 866 904 4690
Email ID : @oideal.in 
Get ready for the rare event with stunning visual effects.
Large Quantities for Schools, Universities, Cruises, Observatories, Museums, Astronomy clubs etc. are our speciality.

Safety
- Safer for direct solar viewing
- Filter Film is Made In USA
- Solar filters meet ISO 12312-2:2015 transmission standards.

Quality
- Premium filters for creating sharper colored image of the sun.
- Full broad frame of solar safety glasses
- Be assured about high-quality film used. It is imported from a reputed American manufacturer.
- One Size Fits all design.
- Provision for elastic rubber string fitting for extra care

One Size Fits All:
- Fits Children and Adults
- Frames are made of flexible cardboard.
- The frame has holes at two ends. So that you can
- Easily bends around your face. So you can hold close to your face.
- Can fit over prescription glasses.

Upcoming Event
- Enjoy this rare event and view the sun safely
- Next solar eclipse in India is on 26-Dec-2019
- Be prepared and view the Sun safely.
- Buy NOW before they go Out Of Stock. Avoid Last-Minute Rush
- Are you ready for a memory of a lifetime
- Are you ready for the first Annular Solar Eclipse after many years in India