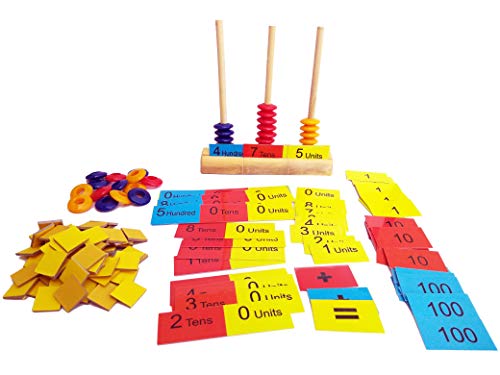 StepsToDo _ Wooden Place Value Abacus and Number Expansion Cards | For conceptual learning of number sense, addition, subtractions concepts (T206)
Rs.299.00 Rs.500.00
Description :

Engage kids to learn foundation building skills of number sense, addition and subtraction.
Useful for kids of UKG, class 1, 2 and class 3
Joyful and meaningful way to generate interest in mathematics.
Durable, long lasting, plastic laminated number expansion cards.
High quality beads & abacus.
Visual learning of number composition, break up.

Why should you buy this kit :

Build solid foundation of number sense.
This kit brings novel way to have some charm in early learning
A good education is the best gift you can give
Reusable and long lasting

Key Learnings from Kit :

Number sense
Face value and place value concepts
Number composition

Addition :

Concept of carry over in addition
Carry over (convert) 10 Units as a Ten
Carry over (Convert) 10 Tens as a Hundred

Subtraction :

Concept of borrowing
Borrowing a Ten and convert it into 10 Units
Borrowing a Hundred and convert it into 10 Tens

Content of This kit :

Equal To (=) card - 1 Unit
Plus (+) card- 2 Units
Cards of 100 - 10 Units
Cards of 10 - 10 Units
Cards of 1 - 10 Units
Cards of Hundred - 10 Units
Cards of Tens - 10 Units
Cards of Units - 10 Units
Square shaped counting tiles - Approximately 125 units
Beads of Blue color- 10 Units
Beads of Red color- 10 Units
Beads of Yellow color- 10 Units
Abacus having wooden base with 3 rods - 1

Who should you buy this kit :

Parents
Schools
Playgroups
Home Tutors